It's a quiet evening at Agape Home in South Minneapolis. Dinner is over, dishes are done and residents are getting ready to end their day. That's when Wendy and Lucy enter. Wendy is the trainer of Lucy, a collie therapy dog. They are frequent visitors at Clare Housing.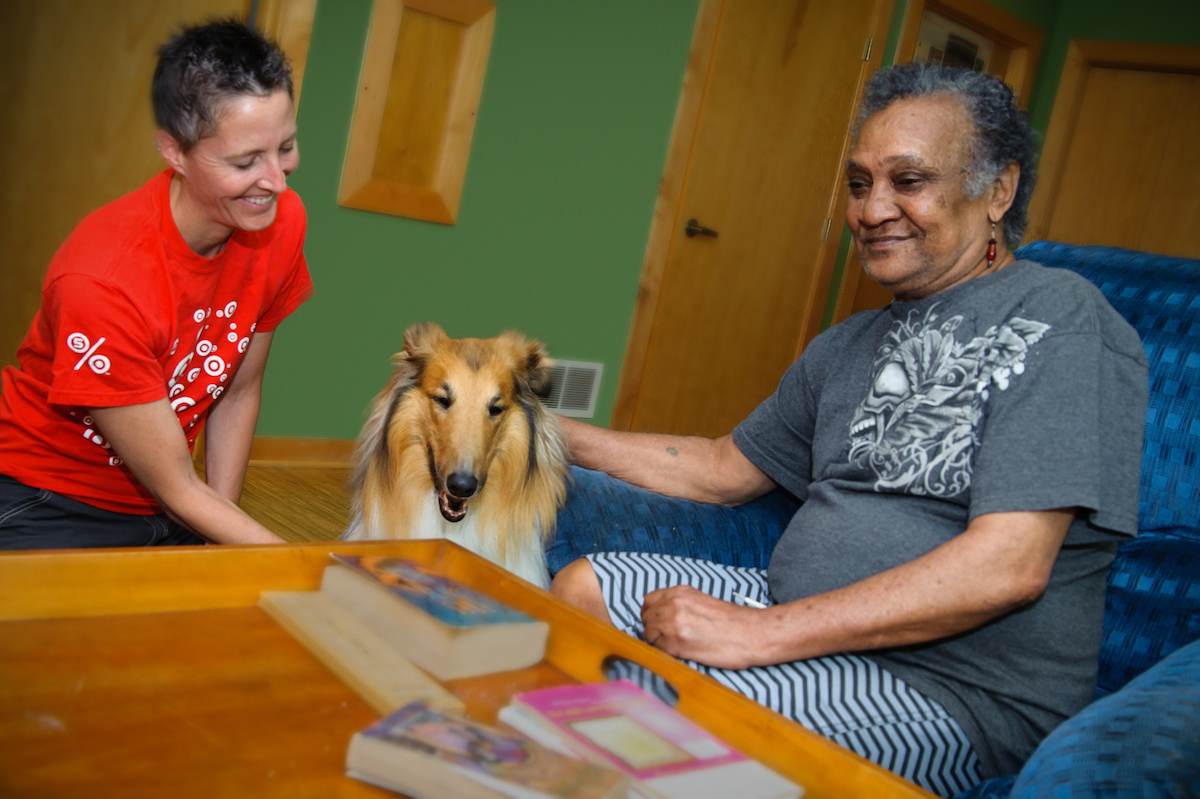 When Lucy comes to visit, residents and staff are all smiles and delight. Resident Anita comes to greet them. With some encouragement from Wendy, Anita gives a "high five" to Lucy who "high-fives" her right back, raising her paw straight up to meet Anita's hand. Everyone in the house waits for their turn to pet Lucy.
Wendy's deep compassion for vulnerable people plays out in her weekly visits at the four com- munity care homes. "I have met so many amazing people who are dealing with HIV/AIDS, and others who just want to help. It's a community of focused, caring people," Wendy says.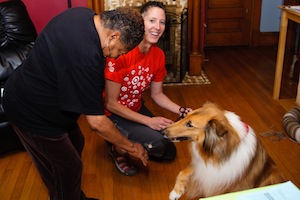 Wendy adopted Lucy when she was about two. In two and a half years of therapy training, Wendy learned special commands and signals. Lucy learned how to stay calm and sit very close to wheelchairs and walkers. "She's a smart dog, and when we started training, it wasn't always easy for her. Collies like to shepherd things and people – but she learned pretty easily," says Wendy. Lucy stays passive and calm when she encounters sudden noise or unpredictable movements, and is adept at navigating around medical equipment. "I think it's just a gift to have a dog in the room. It helps people feel comfortable, and to join in conversations. Plus, I enjoy visiting with the residents." Wendy's goal is to have 50 visits this year and is right on track.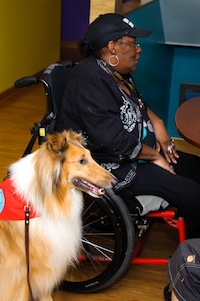 At their next visit that evening to Agape Dos, the joyful welcome happens all over again. Lucy and Wendy gently sidle up to a resident, Cindy, who is in a wheelchair. Lucy offers her paw and Cindy pets Lucy while playing scrabble. The conversation begins again with the residents and staff in the dining room.
We thank Wendy and Lucy for their visits to the community care homes. They're partners in compassion and friendship.