Join us for "Royal Wedding" Bingo A-GoGo! — February 2, 2018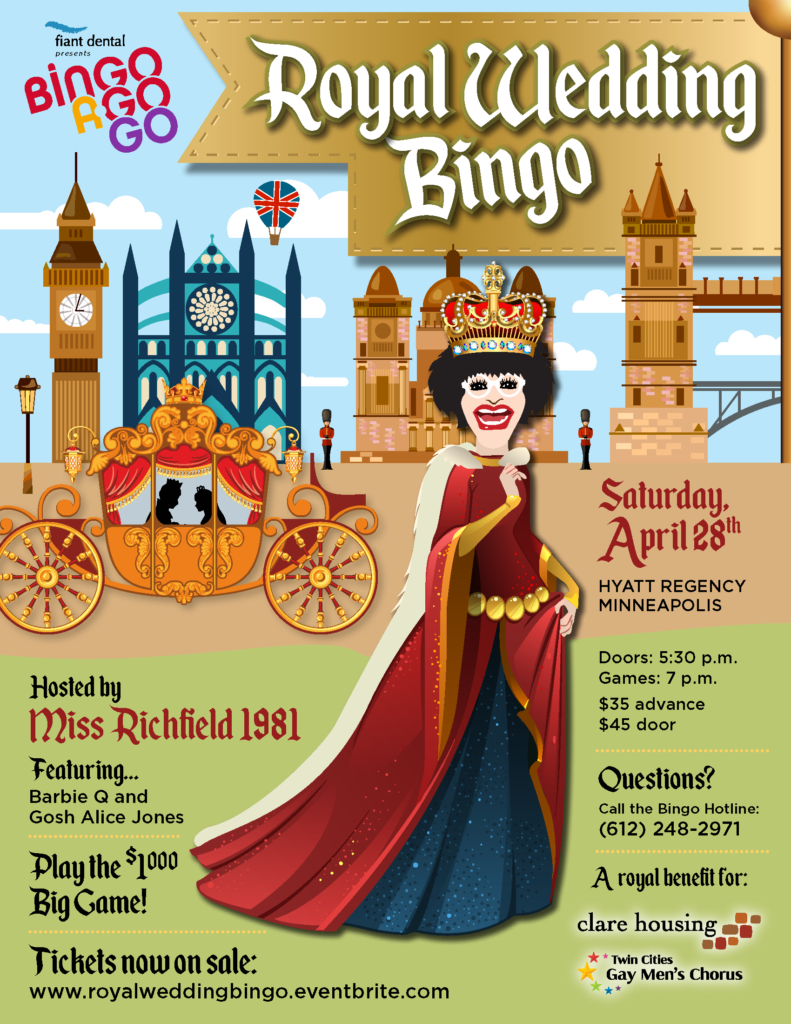 On April 28, Bingo A-GoGo is back and we are celebrating the upcoming royal nuptials across the pond! Join Miss Richfield 1981, Barbie Q and Gosh Alice Jones for this crowning achievement of a fundraiser benefiting the work of Twin Cities Gay Men's Chorus and Clare Housing! Learn more and register here.
As an attendee, you will…
Be dazzled by three fabulous queens – hostess Miss Richfield 1981, and friends Barbie Q and Gosh Alice Jones.
Enjoy 7 games of bingo including the chance to enter for the BIG $1,000 GAME!
Enter to win our many fabulous Raffle Prize packages which include vacation weekends, restaurant packages and more.
Dozens of $20 mystery "wedding gifts" with wonders within for sale starting at 5:30 pm (they sell out fast!)
Costumes encouraged! Get your regal regalia on and snap some photos of your finery at Ye Olde Selfie Booth.
Expanded food selection, themed cocktails, and craft beer available for purchase!
Proceeds to support two great nonprofits – Clare Housing and the Twin Cities Gay Men's Chorus!
What are you waiting for? Be sure to get your tickets for this beneficent bash today!