Meet Kevin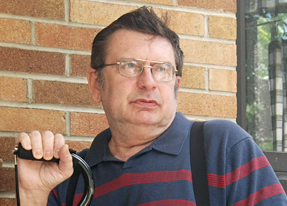 The week Kevin graduated from Iowa State University; he flew to the West Coast to begin a career in design. This is where he first learned he was HIV positive. It was 1988. The design studio where he worked had gone out of business and he had lost his health insurance. A routine blood test for new health insurance determined his HIV positive status. Luckily, Kevin was able to enroll in a study at the University of Southern California that provided his medical care for two years, and support from the Los Angeles AIDS Project helped to offset other health costs. "All they had was AZT, so the doctor put me on a mega dose right away," said Kevin as he described his early years with the virus. "It probably really saved me."
A Minneapolis design firm lured Kevin back to the Midwest in 1997, the same year he suffered the first of two strokes. A more severe stroke in 2003 left Kevin visually and physically impaired. It is unclear whether these strokes were linked to his HIV medications, though Kevin is suspicious of that possibility.
After the stroke, Kevin lived in a nursing home. "I wanted out of that nursing home," Kevin reflected. "People were dying all around me. They had a blackboard by the front door where they would mark down the names of the people who didn't make it through the month and every month we'd have a big memorial service."
Kevin learned of Grace House through a friend who was serving on the board of directors and moved into the home in 2004. "I used to have this wonderful apartment that had views of the skyline downtown, and I'd just redone it all," said Kevin as he described the last place he lived. "Then I had the stroke. I miss that place so much. But this is, I guess, the next best thing I'd say." Kevin appreciates the supportive staff members at Grace House, who encourage him to stay active. Unlike in the nursing home, he says, "you get to be around people who are a little closer to your own age – people who are experiencing the same illness as I am."
A local Alcohol Anonymous meeting and a day program for people living with HIV/AIDS called Park House are Kevin's social hubs. He also recently started attending St. Joan of Arc's Church near Grace House. "I've started going there even though I'm Lutheran," he adds. "They're so supportive and open and very accepting and welcoming, so that's been a good experience. It's a wonderful place."
Kevin moved back to Palm Springs, California in 2008 fulfilling a dream of returning to California. He lived in a supportive housing project for people living with HIV/AIDS and was able to reconnect with many good friends in the area. Sadly, he passed away less than a year after moving back.
Kevin's story serves as a great example of the long and complex journey of living with HIV today and how Clare Housing's variety of care and housing options are critical to the well being of people living with the disease in our community.