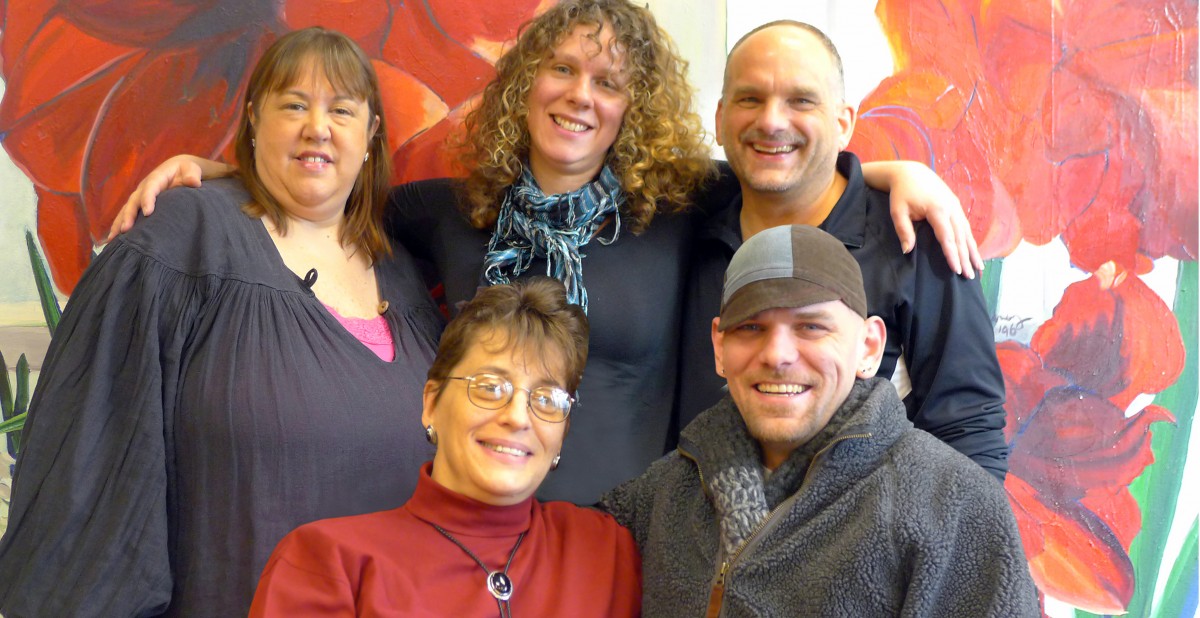 TOP LEFT TO RIGHT: Starr Emery, Angela Maki Jones & Scooter Schroeder
BOTTOM LEFT TO RIGHT: Nancy Wilke & Xander Lilly
It begins with Brother Louie, a Benedictine brother who had a personal and spiritual calling to serve people dying of AIDS. He opened the first home, Samaritan House, now called Damiano, in 1987. In those days the home served more as a hospice than a care home. Two years later the St. Joan of Arc church responded to the HIV/AIDS crisis in the community and converted the church's rectory into a care home, naming it Grace House.
It is at these two homes where the role of a professional "AIDS caregiver" began to take shape. In those early years the caregivers wore many hats and provided the majority of services necessary to run the home. They provided bedside care, prepared meals, administered medication, and much more. They worked hand-in-hand with family members to provide end-of-life care to very ill residents. Volunteers were instrumental in helping take care of the residents at Grace House. There were 30-40 volunteers from the church who signed up for shifts around the clock.
The directors at Samaritan House and Grace House lived at the home where they were employed. This arrangement made the separation of one's personal and professional life extremely challenging. Quickly, it was recognized that a live-in staffing model was not sustainable.
Nancy Wilke was one of the first professional HIV caregivers hired by Grace House and soon more professional support was put in place for those committed to doing this work.
Training on self-care, professional boundaries, and other educational opportunities started to be offered to HIV caregivers by local organizations such as the Red Cross of St. Paul, Pathways, Minnesota AIDS Project, and others. Support groups were created for caregivers, facilitated by therapists or counselors, to support caregivers working in the field.
Today, Clare Housing caregivers and staff receive training and support on HIV disease and opportunistic infections, HIV medications, mental health and chemical dependency issues, diabetes management, traumatic brain injury, boundaries and self-care, and many other health and social issues. Although care- giving continues to be a multi-dimensional job, the infrastructre is in place to make the position a meaningful and sustainable one for both the caregiver and their residents.
Clare Housing currently employs 18 full-time and 24 part-time caregivers at our four community care homes. These dedicated caregivers provide compassionate care in a safe environment so the residents may achieve the highest level of stability and independence while maintaining their dignity at any stage of the illness.
This article is dedicated to the caregivers and staff (past and present) for their commitment and compassionate service.