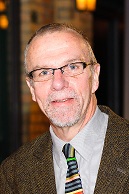 In October, I announced that I am stepping down as Clare Housing's executive director on July 1, 2013. I've been at the helm since 2002 and have guided the organization through significant growth and the expansion of housing and services for people living with HIV/AIDS. I've enjoyed every minute of it! But, for personal reasons I have decided to turn the page and begin my next chapter.
As I told the board, this is not the time to take a "time out" to find my successor. We must continue to position the agency for the future. I've given the board a nine-month notice to assure that they have the time they need to think strategically about my replacement and keep the major initiatives on track. So, what's ahead?
PUBLIC POLICY: For the first time, we have hired a lobbyist, Faegre Baker Daniels, who will assist me and the public policy committee during the legislative session, help build relationships on the Hill and implement a grass-roots advocacy program.
HIV-SPECIFIC HOUSING: With a waiting list of nearly 200 people, we are committed to developing another supportive housing building. In order to keep this moving forward Clare Housing has to find a site and submit applications to Minnesota Housing and the City of Minneapolis next summer. This is something I work on every day and I am determined to have the next site secured before I leave.
RETURN ON INVESTMENT STUDY. Last spring, Clare Housing received a grant to conduct a return on investment study from the U.S. Department of Housing and Urban Development. We are working with a national research firm, the Improve Group, to conduct the study. The analysis will be done in the fall of 2013 with a final report written in early 2014. This study could be incredibly powerful in documenting the cost-effectiveness of permanent supportive housing for persons living with HIV/AIDS.
In addition to all of the above initiatives, I will continue to work with the staff in developing cost-effective models of care as we become knowledgeable on how the Affordable Care Act will impact our services and programs.
The board and staff are committed to moving forward and having a seamless leader- ship transition. I'm certainly committed to assuring that happens. Together, we will continue to provide stable housing, support and care to people living with HIV/AIDS. It is an honor to continue to serve the mission of Clare Housing with you and I look forward to the work ahead.
Have a wonderful holiday with your family and friends.

Lee Lewis
Executive Director