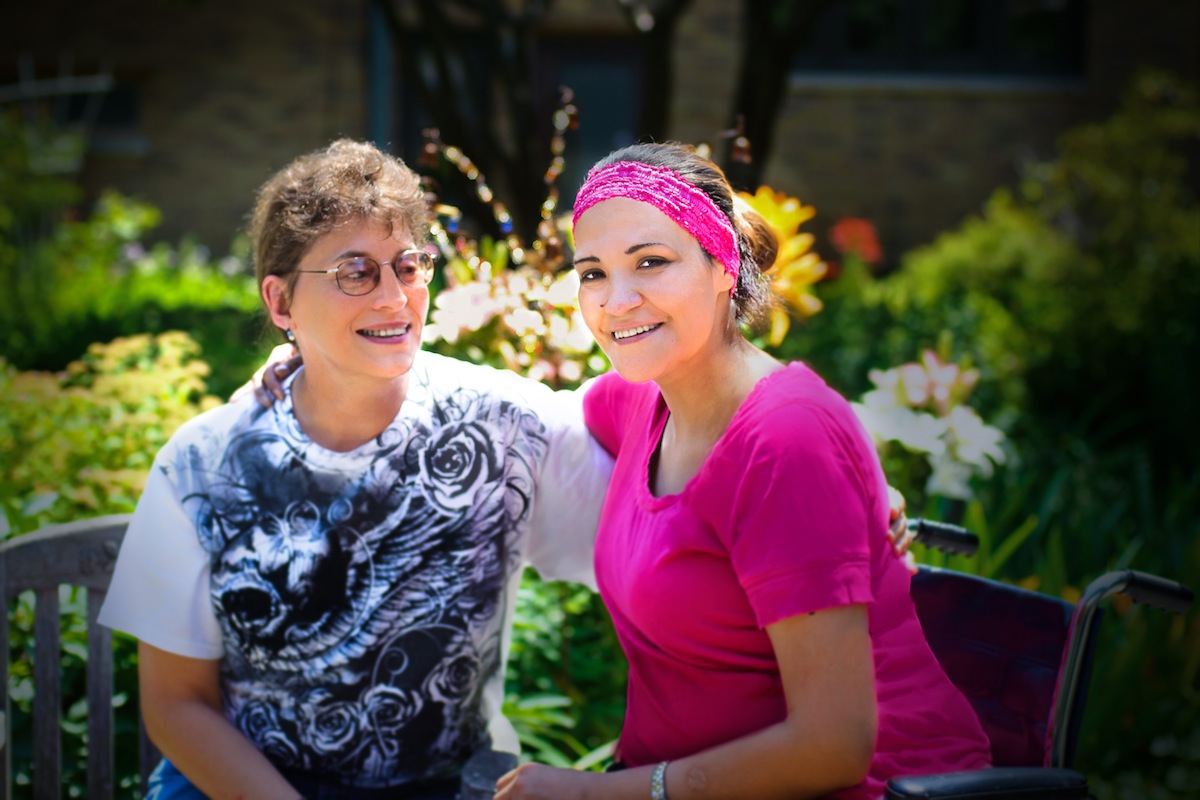 LEFT TO RIGHT: Nancy visiting with resident Geminie in the Grace House II garden.
When you step into Grace House II on almost any given day you are greeted with a smile by Nancy, the lead caregiver. This year is Nancy's 21st year caring for people living with HIV/AIDS. Nancy began her journey of caregiving as a church volunteer visiting people who were sick and dying in the late '80s.
When the disease hit the community she simply wanted to help people. There was little known about the disease, the transmission and treatment. "In those days people called it the gay disease and that was so ridiculous. How could a virus know if you're gay or not," says Nancy.
That lack of understanding and compassion is exactly why Nancy began her journey of caregiving in those early days when it was mostly end-of-life-care. She was there to hold a person's hand, help bathe or feed them. But, mostly she was there when they felt hopeless and knew that they were dying.
In 1991, Nancy was offered a full-time position. Michele Boyer, program director, has been working with Nancy since 1998. "Nancy was instrumental in developing a system for the caregivers from the communication with the doctors to how medicine was dispensed and tracked," says Michele.
Her attention to detail ensures that it will never feel like a nursing home, hospice or an institution. "Grace House II is a home. It just has to be. Our residents deserve that. Having stable housing is so important for people with HIV/AIDS. When you have 25 or more pills to take at maybe ten different times of the day or night, confusion and hopelessness can overtake a person. Serious depression is really common in people who don't have a home, and who are trying to manage everything," says Nancy.
For Nancy, Grace House II is more than a place to work. "I love coming to work, caring for the residents and working with the caregivers. It just doesn't seem like a job. It's my home too and I am inspired every day." Thank you Nancy for your commitment and passion to provide loving care and support to each of your residents.