Clare Housing Celebrates Groundbreaking of Marshall Flats — October 6, 2016
On Friday, September 30th, Clare Housing project partners, board members and staff gathered at the site of the future Marshall Flats development on Lowry Avenue in North East Minneapolis to break ground.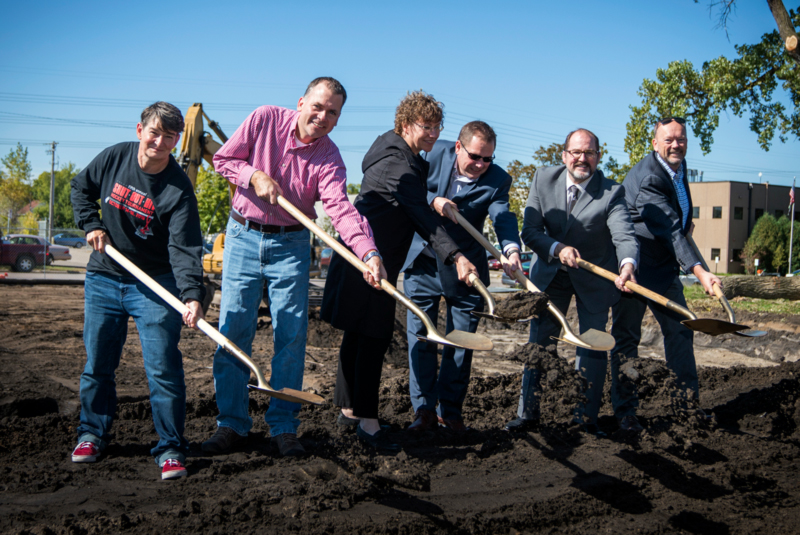 The culmination of years of planning, the ground breaking was a joyful event. Once completed in fall 2017, the development will help address the shortage of dedicated supportive housing for individuals and families living with affected by HIV in the Minneapolis-St. Paul metro by adding 36 new units. In the past year alone, Clare Housing's waiting list doubled to 300 people searching for affordable, supportive housing.
Why does supportive housing make a difference for people with HIV? In a nutshell, housing with connections to healthcare provide the foundation for an undetectable viral load. When someone has an undetectable level of HIV in their bloodstream, their health improves and they are profoundly less likely to spread the virus to others. Housing is the first step to an HIV-free world.
In addition to its supporters, Clare Housing is indebted to the team of development partners who made this property possible.
Special thanks to:
The dedication of Minneapolis City Council Member Kevin Reich over the last four years has also been key to bringing this project to fruition. Supporters and members of the public can look forward to watching Marshall Flats take shape via email updates, on Facebook and Twitter, and at special events exclusively for friends and advocates of Clare Housing.
Our Marshall Flats "Ground Breakers":
Wesley Butler, Assistant Commissioner, Minnesota Housing Finance Agency
Kevin Reich, Minneapolis City Council
Teri Cermak, Cermak Rhoades Architects
Mark Bishop, President, Clare Housing Board of Directors
Michele Boyer, Director of Programs, Clare Housing
Chuck Peterson, Executive Director, Clare Housing
Travis Sutherland, Project Manager, Frerichs Construction
Jerry Westrum, Superintendent, Frerichs Construction
Photos by BD Portraits