Clare Housing celebrates Clare Midtown's one year anniversary — June 1, 2012
Just about a year ago, 45 people who had previously been homeless or living in a very unstable situation were the fortunate ones to move into the new Clare Midtown in the Corcoran neighborhood.
One new resident at the time asked, "If I leave my apartment this weekend, will I still have my apartment when I come back?"  Another was overwhelmed by the safety of sleeping in his new home and having a refrigerator to put away a few things to eat.  Still one more talked about how peaceful it was in his apartment.
Clare Housing made it possible for these new residents living with HIV/AIDS and on the margins of life to live with more dignity, safety and better health.  Some at Clare Midtown depend on the supportive services:   the nurse who will help to administer medications, the transportation to get to medical appointments.  Others are more independent, valuing the community of people around them who understand the stresses of the impact of their numerous health challenges.
"We are so grateful to the Corcoran neighborhood for welcoming our new residents," said Clare Midtown's supportive Services Manager Angie Musich.  "I know the neighbors chat when our residents are out walking their dogs.  And several people in the neighborhood have come by for a tour and dropped by when we unveiled the new wall art in our community room.  All this makes us feel a part of the community."
"As a Corcoran neighbor, I am so appreciative of Clare Midtown," said Gerry Tyrrell.  "It is a wonderful, well-managed building that provides security and homes for the residents.  Having Clare Midtown in our neighborhood provides positive redevelopment to create a welcoming community."
"I have visited and toured the building several times," Tyrrell continued.  "The staff and residents are generous in inviting volunteer groups to use their community room."
For the first time, one of the Clare Housing residents has been elected to serve on the board. He's Mark Linne, one of the first to move into Clare Midtown and a familiar face to those who have come by for a tour.
"I am one of the lucky ones to have an affordable home and be able to live a productive life," said Linne.  "It is my privilege to join the Clare Housing board and represent the residents."
Clare Housing will be a sponsor of the Midtown Market on August 11. It is one of the ways that the nonprofit and its residents can join in to the life of the community.
"We want to thank the Corcoran residents for making us feel a part of the neighborhood," said Executive Director Lee Lewis.  "Our vision is to keep building affordable homes like this so that every person living with HIV/AIDS on the margins of life and in poverty has the opportunity to live a life of dignity with supportive services and compassionate care."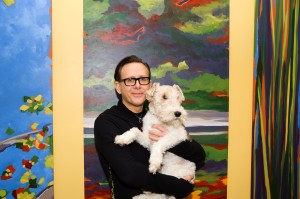 Mark Linne with his companion dog Reilly in the community room at Clare Midtown.