"Why Clare Housing?" with Johnny Stoll — December 8, 2015
We interviewed Johnny Stoll, the new lead resident assistant at Clare Terrace, our latest development, about why he's excited to work at Clare Housing. Here's what he said.
Interviewer: Why Clare Housing, Johnny? You could be doing any number of cool things for different organizations – how did you end up here, and why do you stay?
Johnny: In 2006, after experiencing some major upheaval in my life, I was looking for a job in the social services. I applied to two organizations. I specifically chose agencies that provide services to people living with HIV/AIDS. Why did I do that? Hard to believe but I have a somewhat checkered past, name an at-risk behavior and I've probably engaged in it. My motivation is sort of a karmic/gratitude thing. "There but for the grace of god…"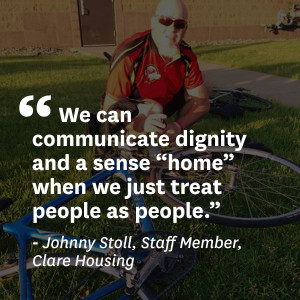 What's made me stay is Clare Housing's approach to providing stable housing and meeting people where they're at. We're in the business of giving people a step up and out of adversity. That spirit carries over to how the staff is treated too. I've experienced adversity during the time I've been here and Clare Housing has stood behind me. I'm fiercely loyal.
Interviewer: Tell us what you do at Clare Terrace. What does a typical day look like for you?
Johnny: I'll be the Lead Resident Assistant at Clare Terrace. Specifically, I carry out the duties of a Resident Assistant (RA) trying my best to role model behavior and best practices. The role of the RA has two primary functions; safety and support.
Many of our residents or consumers will be quite vulnerable. This is often evidenced by other individuals taking advantage of them for things like rides, cigarettes, or money. These same people can fall prey to physical and sexual abuse. We can't be around to supervise and referee everything, but we do keep an extra eye out for those most at risk. We have tools and policies in place to facilitate a safe environment. We also have a lot of resources that provide support to the consumer.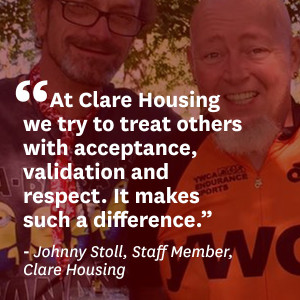 At the front desk, RA's have the opportunity to provide individual support by being good listeners. Sometimes that makes us the "complaint department" but that just comes with the job. We strive to treat residents, their families, and their guests with every possible courtesy. People mostly want to be heard and treated with respect.
We also function as sort of concierge. Residents ask our help to plan bus trips across the city or where to find a food shelf. Just this evening, while working at Clare Apartments, a resident and his guest asked me to help them jump start their car. That certainly isn't in my job description but I had the time to help so I did.
I feel like these kinds of everyday interactions safely break down barriers created by power differentials (i.e.; Staff/Resident). Our folks frequently feel powerless and victimized from years of stigma, institutionalization, and living on the fringes of society. We don't need to further reinforce that. We can communicate dignity and a sense "home" when we just treat people as people.
Of course we also keep healthy professional boundaries. I don't believe that these ideas are necessarily at odds with each other. However sometimes it takes some deliberate introspection and communication with others to reconcile them.
Interviewer: You were particularly looking forward to working with the residents who will be at Clare Terrace for a couple of reasons. Most will be coming from long-term homelessness. Some are also struggling with mental health and/or chemical dependency issues. Why are you inspired to work with folks who are living through these significant life challenges?
Johnny: The homeless suffer a disproportionate incidence of HIV/AIDS infections compared to the general population and their everyday lives are often very chaotic. This greatly diminishes their ability to obtain regular medical care, consistently take their medications, eat well and sleep well – vital elements in maintaining their disease. Dignity and stability are scarce in their lives. They're desperately in need of our compassionate care.
As someone recovering from drug addiction and mental illness, my desire to work with others is quite personal. I've been blessed with the resources and tools to maintain a healthy way of life. That journey has been, and is, sometimes quite difficult. My job enables me to help others along their way.
Our society is big on labeling things. But labels are often quite stigmatizing. I'm not too crazy about some of mine. At Clare Housing we try to treat others with acceptance, validation and respect. It makes such a difference. The consumers we serve benefit from these values and so do I. On the good days my work fills me with humility and gratitude. But before I receive my angel wings let me say that some days aren't so great. This is challenging work. Life is still life! LOL!
Sometimes I forget the importance of what we do at Clare Housing. I get worn out. I start thinking about returning to my first love — the restaurant business. About that time one of our people will come along making some statement about what I mean in their life…and everything comes clear again.
Thanks, Johnny, for sharing this interview with us. It's clear why Clare Housing is able to offer such compassionate care after speaking with you!