Sometimes good ideas really do bring people together — October 25, 2016
With election day right around the corner, we thought you might like to meet Nancy Hylden, the volunteer who helps steer our public policy and advocacy.
According to Nancy, sometimes good ideas really do bring people across the aisle together. That's a message we all could use this year. Nancy is the founding principal Hylden Advocacy & Law.
CH: Nancy, you do something pretty uncommon. As a lobbyist, what is your work like, and what's it like to advocate for an organization like ours?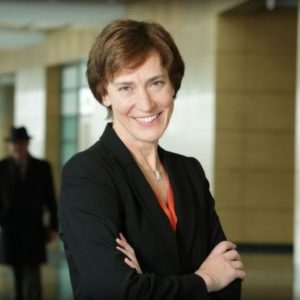 Nancy: Well first off I can tell you there are no black hats or cigar filled backrooms where deals are made!
In a way what I'm doing for Clare Housing is very targeted public relations. Chuck [Clare Housing's executive director] and I sit down and figure out how to make the case for what Clare Housing does in a way that will resonate with law makers and administrators.
I think people will be pleased to know that a cause that really makes sense for the community like Clare Housing is appealing on both sides of the political aisle. Despite the angry rhetoric that's out there, people really respond to what this organization is doing.
CH: That's comforting to hear! Tell us more about the argument you lay out to officials.
Nancy: The case is simple. Clare Housing uses a cost effective model that deserves the support of local community officials. Instead of putting people into high-cost, and poorer outcome emergency room care, a housing approach is a way to stabilize people, and keep them on a better track for less. It's just common sense.
CH: What inspired you to support Clare Housing in the first place?
Nancy: My interest is personal. It goes far back to time when I lost a very good friend to complications of AIDS back when I lived in Duluth. This was the early days of the AIDS crisis. I remember the fear and all the unknowns. For my friend, it was amazing to see the positive impact of just having people around that were accepting. There was so much shame and stigma associated with the disease at the time.
The wonderful thing about Clare Housing is that your outreach normalizes HIV and AIDS, as does the care that residents receive. In my interaction with residents, I've seen the high level of respect and care people are getting. I've been volunteering for a number of years now, and that sense of dignity has been true since the very beginning.
Thanks to Nancy for doing this interview, and for her tremendous support over the years. Having your expert advice has been key to creating more housing for neighbors in need who are living with HIV.