Last "piece" of the funding puzzle for Marshall Flats approved — May 9, 2016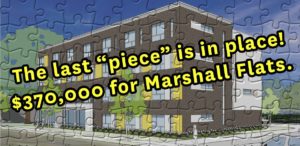 We are pleased to report were recently approved for $370,000 by the Hennepin County Housing and Redevelopment Authority. This is the final piece of the funding puzzle we needed to break ground this summer on Marshall Flats, our next development.
Thanks to Hennepin County Government for your support of Clare Housing and Minnesotans living with HIV. Located in North East Minneapolis, Marshall Flats will be a place to call home for 36 new low income, formerly homeless residents who are living with and affected by HIV.
Thanks to you, we're ending homelessness for people living with HIV one person at a time. Person by person, we're moving towards an AIDS-free future based on equitable access to housing and healthcare.