Meet Eric T. Michael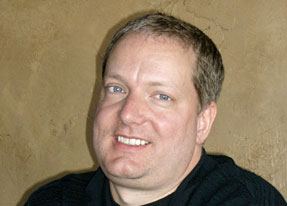 A busy professional who travels more than half of the year, Eric was happy to realize that he would be in town for the opening of Clare Apartments and responded to our plea for volunteers to help at the event. Little did he know that he would be donning an apron and passing out hors d'oeuvres! But that didn't faze this principal at Mercer who spends his days working on designing, managing and collective purchasing of pharmacy benefit programs for large public and private employers. He was more than happy to put on an apron and pass out appetizers to other supporters, government officials, new residents and social service providers.
He was impressed with the work of Clare Housing and the organization's commitment to improving the lives and health of low-income people living with HIV/AIDS. He became a Sustaining Donor with a generous monthly gift that continues to provide critical and ongoing support to our expanding programs. "I believe you have an obligation to give back in life. It's just a question of where you give back," explained Eric as he described his support of Clare Housing.
Eric grew up in Northwest Indiana as one of six kids: five boys and one girl. He attributes his community involvement to an upbringing that instilled the importance of education, hard work, family and helping others. "Being a descendant of an immigrant family we all believe in hard work and making the most of the opportunities we had," says Eric. His mother had a passion for helping kids with development disabilities, autism, etc. As a result, he and his siblings grew up volunteering with their mother at the Association of Retarded Children (ARC). "This was her passion," said Eric.
Today, another one of Eric's volunteer duties is administering a scholarship fund that he and his siblings established in memory of their mother. The scholarship supports students in Indiana who are majoring in School Psychology. As a licensed pharmacist, he also donates his time to a neighborhood pharmacy in the Kenwood as a way to stay connected to this aspect of his profession.
Eric's partner, Josh Hillger, is an attorney who grew up in Eden Prairie, MN. The couple recently had a commitment ceremony in Curacao with their friends and family. "It was picture perfect," said Eric as he described the sunset ceremony.
Thanks Eric for your sustaining support and continuing to wedge Clare Housing into your busy life!