Meet Flash & Freddie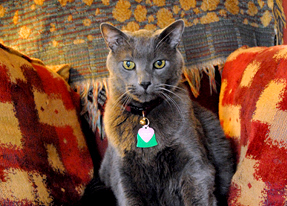 Residents at Agape Dos enjoy spoiling Flash, the gentle beagle that lives with them. Flash can often be found curled up at the foot of a resident's bed when someone isn't feeling well. He also loves going out to the backyard with the residents, going for a walk, and hanging out in the dining room looking for a treat.
"The animals in our homes provide comfort, entertainment, a reason to get outside and a constant companion on long days," says program director Michele Boyer. "Having a pet nuzzle up to you when you're not feeling well is great medicine."
At Clare Apartments, where residents live independently, a number of residents have pets. One of these is Coco, a lively Chihuahua Miniature Pincher mix. When his owner is not feeling well, there are always volunteers to take him for a walk and play "chase the ball" with him on the lawn. He entertains at Clare parties and even dresses up for Halloween (last year he was Zorro). "Coco is very smart – he opens my desk drawer where I have doggie treats hidden for him," says Cynthia Wolterding, supportive services manager at Clare Apartments. "Like many dogs, he is very intuitive and snuggles up to his owner when he is feeling sick or depressed. He is a real therapy dog!"
Six of the residents at the apartments have cats. One resident, who was homeless before moving to Clare Apartments, says that being able to have the companionship of his cats is the most attractive part of living in his own place. There is always someone to greet him when he comes home.
Clare Housing staff members also educate residents on how to stay healthy with their pets. "The health risks are generally pretty low compared to the benefit of the companionship, but there are some health risks for people with HIV/AIDS," says Boyer. "We clean cat litter boxes and remind residents to wash their hands well if they do it themselves."
The combination of comforting pets and caregiving staff are another way Clare Housing helps make our facilities feel like home."Having a dog or cat in our houses can really give residents a sense of 'home'. Our mission is to be more than a sterile care facility, our goal is to provide a warm, loving home in which our residents receive care," says Boyer. "We believe the pets provide comfort, companionship and healing to our residents."