Meet John Sullivan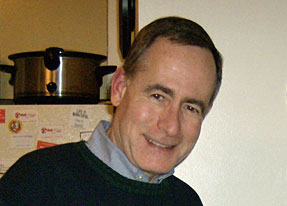 Although John's work often takes him out of town and out of the country, the Twin Cities is where John feels most at home. He grew up in Richfield, MN in a tight knit family of eight. John became involved in non-profits while in college. He worked at the Children's Theatre Company where he later served on the board of directors for over a decade. His commitment to helping non-profits expanded from there. When asked to explain how he has managed such time-consuming and numerous volunteer commitments on top of a busy career John explains, "Once I got started, I was getting so much out of what I was doing that I kept doing it."
He became involved in the work of Clare Housing by volunteering to make dinner once a month at Grace House I. His family attends St. Joan of Arc and was aware of the parish's work to open Grace House in the old rectory. Church leaders called on the congregants to help out. He loves to bake and figured he could cook well enough, so he signed up. He later joined the board of directors and served as the chair of the board for many years.
When asked what moments in Grace House history were special to him he said, "I have had really incredible nights there." One was during a period when John was working in Chippewa Falls, WI for Cray Research. A family member of one of the residents came through the kitchen one evening and both men were surprised to realize they knew each other from Cray. The father, Ray Thul, was deeply touched to know that someone from his work-world, far from the cities, was here cooking dinner for his son. He described how touching it was to serve the entire family at dinner one night. "I made two big casseroles and passed on the recipe to Ray's wife MaryAnne. It was incredible to pull this recipe card out of my pocket, in my mother's hand-writing, and pass it on to a mother whose son was so ill" said John. John's relationship with the Thul family grew from there as Ray and MaryAnne continued to stay involved in Grace House's work long after their son passed away.
Today the residents know him as the guy who always has the cookies baking while they are eating dinner. "I think it's nice for everyone to be able to smell them and know there will be warm cookies for dessert."
Professionally, John serves as Senior Vice President, General Counsel and Corporate Secretary at Imation Corporation where he provides legal guidance to executive operations, directs worldwide legal staff, and supports the Imation Board of Directors. He is also responsible for the Company's Government and Community Relations programs. In this capacity he often encourages senior management to get involved in the work of the community. "Sitting on the board of a non-profit figuring out how you are going to make payroll is a real life scenario that you won't learn in a mini-MBA program," he says.
John is active in many other community organizations including serving on the Board of Directors for the Jungle Theater (where he is Chair), OutFront Minnesota, and the Matthew Shepard Foundation. He has previously served on the Board of Governors of The Children's Theatre Company, the Board of Directors of James Sewell Ballet and, of course, Grace House.
John was a founding member of the Human Rights Campaign (HRC) Business Council and also served as its co-chair. John also served on the HRC Board of Governors and then on the national Board of Directors. John holds a doctorate of jurisprudence degree from the University of Notre Dame Law School and a bachelor of arts degree.