Meet Mark Bishop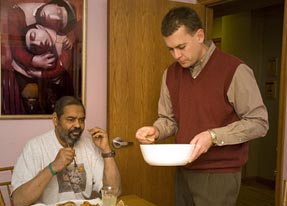 Actually, it all began in Washington DC where his work as civil engineer with Kimley-Horn and Associates often takes him for business. Instead of sitting in his hotel room after his meetings were done, he sought out a place to make an impact. He found Joseph's Home, a supportive and nurturing home for formerly homeless men and women with terminal illnesses; predominantly HIV/AIDS. "I was so taken by just hanging out with those courageous people. In spite of all the odds being against them, there was a strength and beauty about them that actually fed into my spirituality," described Mark. "They would share their stories with me, giving me way more than I could offer them." Mark sought out a similar program in Minneapolis/St. Paul. "Clare Housing was at the front of the list when I Googled "AIDS" in Minneapolis; I called Lee right away."
"I was so impressed with Mark's gentleness when I met him," recalls Lee Haugee, volunteer coordinator. "Little did I know that he would become one of my busiest volunteers!" Originally, Mark signed up to cook two nights a month at Clare House in St. Paul. "It wasn't because I was a great cook. It just seemed that would be the best way to be invited into people's lives. Meals are a sacred time; people relax and share."
Because Mark is an engineer, it was a challenge for him to not control the order of things while he was at Clare. "James always comes down to set the table and chat. It is sometimes difficult for my engineer mind to listen and not have complete and quiet control while I am trying to time the dinner. Once again, I am the learner and receiver – more of the little stories that are unveiled each time I'm there."
Soon Mark was coming early or staying late to tackle weeds in the yard, and was often joined by resident Vicki who loves the garden, being outside and sharing her stories! Fall came and Mark enlisted a group of friends to join him for Saturday leaf raking; he became the grounds keeper. "I would love it if I lived down the street and could just stop in whenever to do a bit. It grounds me as well." On one occasion, Mark brought a new set of dishes with him. "The dishes and cutlery get a lot of hard use with the multiple volunteers and staff. I just helped spruce up the kitchen a bit!"
Marks' wife Alison and two daughters Elle, 5 and Kate 3, occasionally join him on the Saturday visits. On Thanksgiving this year the whole Bishop family joined the residents for a visit. "The girls loved the visit and really warmed up to the residents. We took pictures and laughed. I got a great picture of the girls with Vicki and gave her a copy for her room."
On Christmas, the family was scheduled for a Christmas Day visit but it had to be cancelled when one of the residents had died that morning. "It was a one of those unexpected real life experiences for my girls," said Mark. "Death is always hard to talk about but they seemed to understand."
So now we have Mark the cook, gardener, listener, fence builder, raker, and donor – but that's not all. Mark took the story of Clare Housing to the foundation at his work resulting in a $4,500 grant. He is also a founding member of the Vineyard Community, a small community of faith that provides service to others as a part of their mission. This might not sound so unusual for a faith community, but there are only about 15 adults involved. The group has a pastor and usually meets in his home. They used to meet twice a week but decided to take one of those nights to provide service to an organization in need. And because they do not support a facility, they have more money to give to the community; Clare Housing has been a recipient of their generosity as well.
When asked what other ways Mark gives of his time and energy, Mark replied, "Clare House is my only focus. I like to go deep and really get into the mission and messages of the organization. Giving a lot to one place feels more important to me personally than giving a little to many places."
Thank you, Mark, for being the kind of guy to dig deep. Each time that you come to Clare House, our residents experience the love and home-like atmosphere that makes Clare Housing unique and our volunteers critical to our success. Your generosity is incredible.