Meet Mary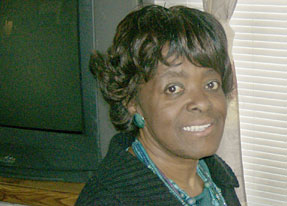 Mary was in a place in her life where she needed to take a stand and put herself first. Due to a divorce that left her unable to afford her rent she was asked by the landlord to leave her apartment in Hopkins. With the help of her case manager, Leah Westberry, at HCMC's Positive Care Center she learned she was eligible to apply for an apartment unit at Clare Apartments. In February of 2009 Mary was quickly accepted into Clare Housing's assisted living program.
In the 20 years that Mary has been HIV-positive she has never been hospitalized or faced a housing crisis. Making the decision to move into a HIV-specific housing unit was difficult for Mary, "I like to be independent; I came to Clare Apartments thinking I was dying. But I am living here at Clare," Mary says.
The staff at Clare Apartments works hand-in-hand with Mary to meet her goal of living as independently as possible. She remains independent and does her own grocery shopping, cooking and housekeeping; "those are the things I love to do," she states. However, each morning, Mary goes downstairs to the nurse's office to get her medication. "Knowing the nurses are there to help me set-up my pill boxes actually gives me a sense of control." Another relief for Mary is that Clare Housing pays for such services as her Lifeline Medical Alert System.
Within the first few months that Mary lived at Clare Apartments and after the stress from her move ended her health stabilized. "After coming out of my divorce I learned to love myself and decided to set a goal to attend a vocational training program." Mary applied for a program at Project for Pride in Living that would teach her computer and job skills. At the completion of her training in October 2009 she was awarded a laptop computer and earned a vocational certificate. Mary began looking for work and this February she began working as a part-time receptionist at African American AIDS Task Force. "I made a decision. I could stare at these four walls all day or I could do something about it. Assisted living does not mean sitting – it means living, and for me, I want to live a healthy and happy life."
Besides her own personal goals, Mary's family plays a huge role in her life. "I get to baby-sit my granddaughters several times a week in my apartment. We have 'girl's night' and spend quality time together. We have fun playing the piano in the community room or going outside on the patio for a picnic."
Mary has learned a lot about taking care of herself over the years. "I want to be a role model not only for my granddaughters but for people who are in the same situation as I am," she smiles, "I like being a resource person for other people with disabilities." Mary keeps a basket of resource materials in her apartment in case she can be of assistance to someone else in need.
Perhaps the most poignant story during our interview comes from Mary's 5-year old granddaughter who told Mary that she wants to become a nurse so that she can find the cure for her grandma. "I would really appreciate that," Mary reports telling her grand-daughter, "but that would be selfish – because there's a whole bunch of people in the world living with HIV/AIDS. Let's find the cure for all of them."