Meet Michael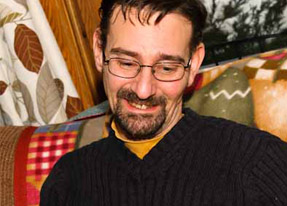 When people meet Michael they are instantly drawn to his positive outlook on life. Michael has had low points in his life but he accepts them for what they are, does not look back and learns from the choices he has made.
Michael has been HIV positive for sixteen years. He was in a relationship for many years and was the primary caregiver to his partner before he lost his battle to AIDS. "My partner was my support network and all I knew. We had a great life together," says Michael. In 2006, Michael made the decision to go off his HIV medication. "I call that my med holiday period and would not recommend it to anyone," says Michael. Not able to take care of himself, Michael became extremely ill, and lost his home and job. "I ended up living in a nursing home for 10 months and lost who I was."
As he struggled to get better, his sister knew that the nursing home was not the place for him. She contacted Maureen Wells, a case manager at Clinic 42 for help. Maureen educated Michael and his sister on what his options were and introduced him to Clare Housing's community group homes. The minute Michael stepped into Agape Home he knew it would be a place where he could reclaim his life. "I knew I was home and just fell in love with Agape Home." Although his sister wanted him to live outside of Minneapolis, they both knew that Clare Housing's supportive services and 24-hour care would be the best for him.
Michael moved into Agape Home in 2008 and his health soon began to stabilize Michael is an active volunteer at the Aliveness Project and attends Park House. "I take responsibility for every bad choice I have made but I don't live in the past. I know how to ask for help. I don't want to hurt myself or the people who love and support me," says Michael.
Michael has continued to benefit from the programs of Clare Housing. He was a pioneer in the Buddy Program. The Buddy Program matches residents with volunteers who provide support and companionship. Michael was the first person to request a buddy.
He was matched with Will Whelan and the two of them hit it off. "I had been cooking at Grace House II for a little over a year and I wanted to find other ways to become more involved in helping the residents. When I met Michael, I was drawn by his positive energy and loved how willing he was to try new opportunities," says Will.
Their first "buddy outing" was volunteering at the Aliveness Project's volunteer picnic. "I had so much fun with Michael and he was so gracious to include me in something that was important to him," says Will. From there, Michael and Will decided to meet every other Friday and have been for the last six months. The first Friday of each month, Michael goes with Will to cook dinner at Grace House II. "I like going over to Grace House. It is fun to cook with Will and socialize with the other residents and caregivers," says Michael.
Anyone who meets Michael and Will can see the connection they have and how they both provide so much for each other – friendship, laughter and the willingness to do new things. This spring they are going to try the paddle boats at Lake Calhoun. "Michael has helped me get out of my comfort zone and take a positive outlook on opportunities. After visiting with him I am always in such a great mood, sometimes I think I get more out of this than he does," says Will.
Michael's first step toward independent living was his application for an apartment at Clare Midtown. When the application process for Clare Midtown began last October, Michael decided he was ready for independent living. "I knew it was time for me to leave Agape Home and begin the next phase of my life by living on my own," says Michael. Michael will move into Clare Midtown in March. This will be his first time in six years he will be living alone. "I am really excited to move to Midtown and have my own home. As much as I love the caregivers and residents, I am looking forward to my privacy."
Michael will be enrolled in the supportive service program at Clare Midtown. The services that will be available to him are nursing care, medication administration, hands-on assistance with activities of daily living, and building independent living skills. Additionally, Will and Michael will be able to continue their Friday night outings in the Buddy Program. "Clare Housing brought Michael and me together and we will always be friends. I think we both get something special out of this and I want to be there for him to succeed in his new housing," says Will.
"When I entered Clare Housing I said this is only the beginning of me living a healthy life. I want to create new memories and positive experiences. Moving to Clare Midtown I want to find out what I am capable of doing and take care of myself in a positive way," says Michael.
Will believes Michael will not fail in his new housing environment and Michael's friends, family and the staff at Clare Housing want him to succeed. "I am really looking forward to meeting other residents at Midtown. We all have stories and I want to learn from them and live my life to the fullest," says Michael. Michael is going to be 39 this year and welcomes the future with open arms.
Michael's story is a wonderful example of the continuum of care that Clare Housing offers. Over the next few months, we will share with you Michael's transition to Clare Midtown and his journey to independent living.