Meet Mikayla and Matthew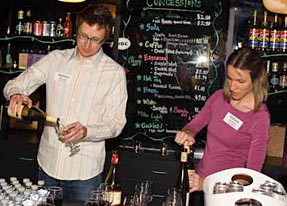 For many of the residents at Clare Housing, the volunteers are a part of their daily lives. Almost every night of the week, in our care homes, there are volunteers in the kitchen preparing dinner for the residents. We are so grateful for our volunteer's dedication and commitment to helping out! They make life a little easier for our residents who struggle daily with their disease. Our volunteers are of all ages and come to help for different reasons.
In 2007, Mikayla, a young adult wanted to give back to the community and signed up to be a volunteer at Clare Housing. Mikayla had just moved to Minneapolis after completing a two year Christian volunteer program in Paraguay. Looking to continue her community work, she signed up to cook at Grace House II through her church, Upper Room in St. Louis Park.
"A group of us were looking to do some community work and when we saw the list we were excited to be able to cook for people," says Mikayla. The group cooked once a month on Saturday nights. Their signature dish was serving breakfast for dinner. They loved showing up with so many people excited to see them. "It was like we were coming home," her favorite part of the evening was after dinner sitting around the table laughing and sharing stories. "It was so fun to be a part of the group and learn different things about the residents."
Mikayla was also the coordinator of the volunteer group and enjoyed bringing in new friends to volunteer including her boyfriend, Matthew. "I saw how important volunteering was to Mikayla and I wanted to be a part of it," says Matthew. For both Mikayla and Matthew it is important to give back to the community. "We both enjoy connecting with people and seeing the huge impact you can make on an intimate scale," says Mikayla.
One person who really made an impact on them was a resident at Agape Dos, Narciso. At the time Narciso only spoke Spanish. Mikayla is fluent in Spanish and when she heard there was a resident who was from Mexico she offered to help translate for him. "I came over to Apage Dos to meet Narciso and he was all smiles and just wanted to have the companionship." Over the years they have had wonderful conversations. "He appreciates someone to listen to his stories about his family, movies and jokes. It was great to be there for him, give him a hug, and be a part of his life," says Mikayla.
With Mikayla and Matthew starting new careers and planning their wedding they aren't able to cook in the homes as much as they used to, but are still able to be involved and help out by volunteering at Clare Housing's Friends Dining with Friends events and Bingo-a GoGo. "Matthew and I enjoy being a part of Clare Housing and helping out anyway we can." We follow our spiritual beliefs, to live simply and focus on the causes that help make a difference," says Mikayla.