Register for Faith, Hope and a Plan: A Forum on Ending HIV/AIDS in MN — November 21, 2016
Thursday, December 1 at 6:45 – 8 PM at All God's Children Metropolitan Community Church, Minneapolis, MN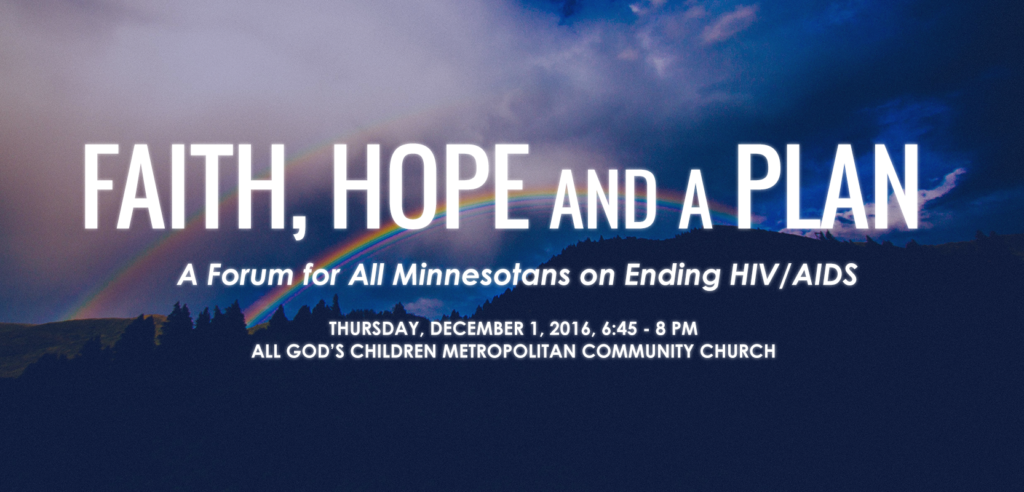 The tools we need to stop the spread of HIV already exist. Our challenge as Minnesotans: To make sure all of our neighbors can access them.
Join us on December 1st, World AIDS Day, and learn about the possibilities provided by new prevention methods, and other tactics that can make a future with no new transmissions possible.
Our program:
This hope-filled evening will start with Reverend DeWayne Davis honoring the memory of those we have lost to the HIV/AIDS epidemic.
Following the service, you will hear firsthand from a panel of committed Minnesotans who are already at work on this issue.
Why you're attendance is requested:
Nearly every day in Minnesota someone is diagnosed with HIV. There were 300 new infections in 2015.
It is time to join hands and realize our vision of ending new HIV infections in Minnesota. With faith, hope, and a plan, we can.
Find out what you can do. Ask questions. Bring a friend. We look forward to seeing you there.
Joining us as panelists:
State Senator Scott Dibble
Gwen Velez, Executive Director, African American AIDS Task Force
Chuck Peterson, Executive Director, Clare Housing
Jonathan Hanft, PhD, Ryan White Program Coordinator – Hennepin County Public Health Department
Matt Toburen, Public Policy Director, Minnesota AIDS Project
~ Event Co-hosts ~
Clare Housing
All God's Children
Minnesota AIDS Project