Tickets for Halloween Bingo A-GoGo Still available! — October 20, 2017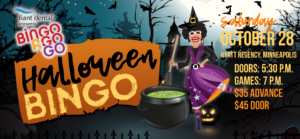 Don't miss out on this fun fundraiser for Clare Housing and Twin Cities Gay Men's Chorus! Register now and get $10 off the price of admission at the door. Join Miss Richfield 1981, Barbie Q, Gosh Alice Jones and Mrs. Margie Peterson in this over the top costumed event. Here's just a sampling of our fabulous prizes:
Raffle #1: It's a Thanksgiving Weekend!
Gift cards to help plan your meal: Kowalski's ($100), Cub Foods ($75), Lunds ($25) and Wuollet Bakery ($25) and a $9 gift card for a nice loaf of bread from Breadsmith. This package also includes four bottles of wine from Trader Joes. We'll include a rolling grocery bag to carry it all in ($36). To help you prepare your Thanksgiving dinner we'll throw in a turkey roaster and carving tools. Donato Floral will provide a $25 Thanksgiving floral setting. In case there's left overs, you will get an insulated food bag and an insulated lunch tote. Happy Thanksgiving!
Raffle #2: BFF's Day Out!
You and your BFF can spend some time at Denny Kemp Salon on 50th and France for a haircut and tint with Dominic and Ashleigh ($305). Take a short walk to Nail Image in Edina for two manicures ($32). Stop in at Salut in Edina for a late lunch ($30 gift card) and then go over to the Landmark Theaters in Uptown for one of the latest movies playing in town ($18)!
Raffle #3: A St. Paul Weekend!
Enjoy dinner at the Commodore ($100 gift card) and two tickets to Park Square Theater (value of $80). Finish your evening with a deluxe overnight stay for two at the St. Paul Hotel ($210 gift card). It's a wonderful St. Paul weekend! 
Raffle #4: A Minneapolis Weekend!
Start your evening with a romantic Italian Dinner date for two at Nonna Rosas' in Robbinsdale, including antipasti, soup or salad, entrée, rustic bread, wine, dessert and cordials (valued at $120). Drive in to town and enjoy an evening at the Guthrie Theater (voucher valued up to $174). Finish the evening with a romantic weekend night stay right here at the Hyatt Regency Hotel in downtown Minneapolis, with breakfast the next morning at the Prairie Kitchen restaurant in the hotel lobby ($190 value).
Raffle #5: Art for the Home
A selection of wall art (abstract framed print) and a lovely viz glass vase, hand selected by Greg Hennes of Hennes Art Company on Glenwood Avenue in Minneapolis. We will have both pieces on display at our raffle table! 
Raffle #6: Guy Stuff
It's a bunch of guy stuff for the heterosexual in our lives: a personally autographed Viking jersey from #29 Xavier Rhodes and an autographed baseball from Minnesota Twins' Paul Molitor. We'll include a gift certificate to Cowboy Slims ($25), a $42 oil change at Jiffy Lube (it's a guy thing) and a party for you and 19 friends at Park Tavern ($260). We'll even include a $28 haircut at Dick's Barber Shop, just because you still need to look your best when you're wearing your Vikings jersey.
Raffle #7: We've Got Your Holiday Plans Covered
Get an early start on Thanksgiving weekend with two tickets to the Broadway touring production of WAITRESS on Tuesday, November 21! Take a break from all of your holiday shopping with two tickets to the Minnesota Orchestra's presentation of HOME FOR THE HOLIDAYS on Thursday, December 21. Get away from the in-laws for a night with a stay at the Radisson Red in downtown Minneapolis, with breakfast. And finally, we'll add $100 in gift cards to dine at any of the Blue Plate restaurants in the Twin Cities. You're welcome.
MARQUEE PRIZES
Marquee #1: An Uptown Dermatology Skin Spa Package
The Uptown Dermatology Skin Spa Package includes facials, laser treatments, and more! You'll be looking so fine, your friends we'll be shouting, "Get it, ghoul!" 
Marquee #2: 5 Course Chef's Dinner at Mercy Bar & Dining Room
Mercy Bar & Dining Room at the Le Meridien Hotel in downtown Minneapolis invites you and five friends to enjoy an evening at their Chef's table where their Chef will prepare a 5 course dinner with paired wines!
So what are you waiting for? Buy you tickets to Halloween Bingo A-GoGo now!