The Diversity of Love at Clare Housing — February 23, 2015
by Epstein, author and resident, Clare Housing
As you walk into the entry area of one of Clare Housing's assisted living homes you will notice a sign that reads "Love Spoken Here." So true, in so many ways.
Four residents share the home; this in itself is an exercise in diversity for loving one another as a household community. We have age and gender differences, individual personalities, families and friends, varied past educational and employment accomplishments. We're each unique, but we grow and share together.
As with most families we come together at the dining room table. Often the evening meals are prepared, served and enjoyed with the company of our kitchen volunteers. These individuals, couples and groups bring fresh faces, new stories and the wonderful meals that help to sustain us. These volunteers — who offer their love of food, cooking and sharing — are a treasured example the diversity of love.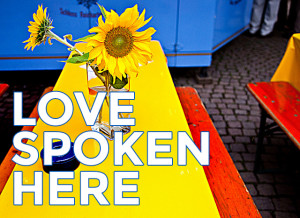 There is a diversity of love shown in the activities of those connected to the house. Gardening, knitting, movies, reading, staying connected with activities in the neighborhood or families in other cities: how we each spend our time is a way for us to express our passion.
Our abilities and energy levels can ebb and flow. There is a challenge in accepting the need to love the present moment even when it requires the assistance of a wheelchair, oxygen, a cane or walker, or additional pain medications.
Staff, volunteers and visitors are part of our daily life at the house. Getting to know one another means learning ever more ways to appreciate the unique gifts provided by every person. The staff is with us twenty-four hours of the day, we rely on them and appreciate them as if they were family, which in fact, they are.
In so many ways each day has countless moments of tenderness, security and caring.
Thanks to author and resident of Clare Housing Epstein for writing this post on his experience of the diversity of love at Clare Housing. Look forward to more featured posts by Epstein in the coming months.