Embrace It, and Head on in: Maureen Well's Story — August 28, 2017
How do you find your career? Sometimes your career finds you, at least that's what happened for Maureen Wells. It was 1986, and Maureen was stage managing a play at Theater in the Round. After a long day, Maureen went out for a drink with the director, her friend Dann Peterson and his partner.
Over drinks after rehearsal, Dann told Maureen about something new. They were volunteering as "buddies" at the Minnesota AIDS Project. Maureen already had several friends who were diagnosed with HIV. She decided she'd reach out and begin volunteering herself. Maureen had no idea at the time that she was beginning what would become a 31-year career in the HIV sector.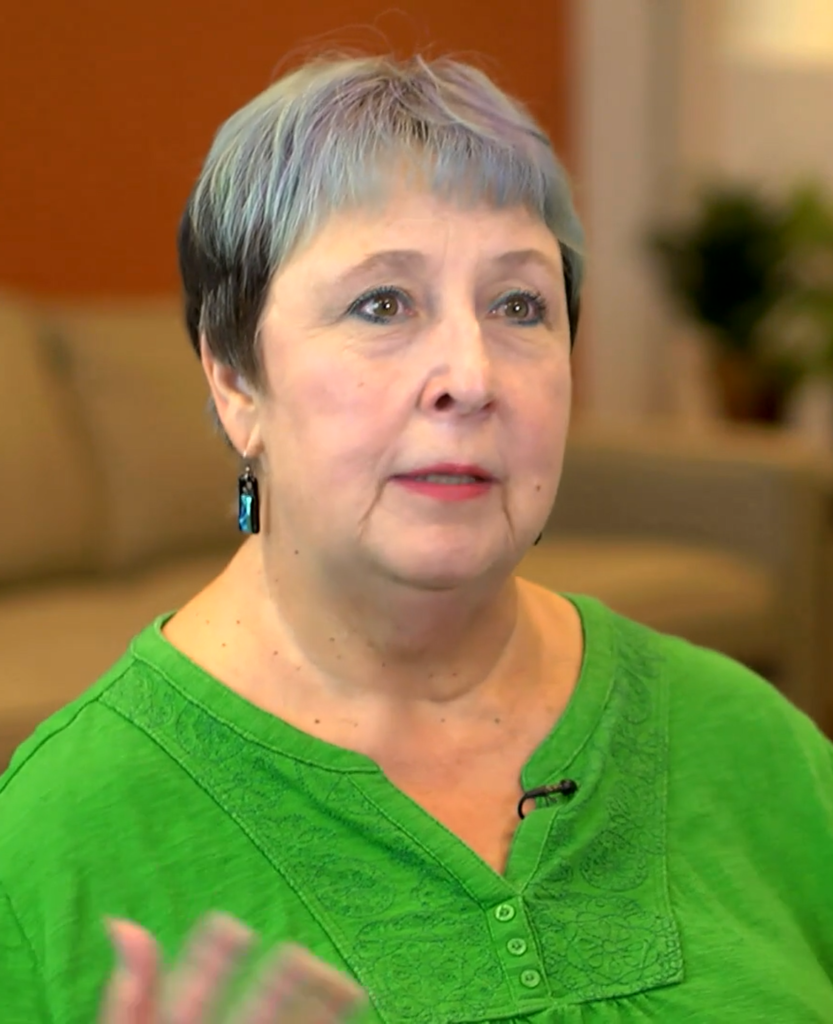 Maureen recognized quickly that one of the biggest obstacles was simply a lack of facilities for people living with the illness. As Maureen explained during her interview, "Nursing Homes were afraid to take people back then. Only 1 or 2 would take people with HIV, but they weren't necessarily that good."
With poor choices for professional support, the responsibility to care for people fell on friends, many sick or caring for others already, or upon family members who may not know their family member was gay, or may have already been estranged for that same reason. These sick people needed supportive places where they could be themselves; where they could live and die with dignity.
It was out of this environment that the early AIDS Care Homes were born, including Clare House, the organization that would transform into the Clare Housing you know today. Maureen continued her work in the field, and also volunteered in a couple of capacities including as a support group organizer for surviving partners of men who had died of complications of AIDS hosted at Grace House, which later became one of the Clare Housing Care Homes.
Thanks to new medications that became available to the public in 1996, a few of Maureen's friends who contracted HIV in the 80's and early-90's survived, and are still alive today. Recognizing that the advent of these powerful drugs meant new needs for people living with HIV, in 1997 Maureen wrote and received her first grant. With those funds, Maureen became the first HIV/AIDS Case Manager in the state of Minnesota.
As Case Manager for patients with effective drugs, her role changed from sitting by the bedside of people who were dying, to meeting people where they were at – wherever they were at!
As she likes to joke, she used to do a lot of "drive-by" case management. Meeting clients where they were comfortable, which for some in the closet about their status, often might mean the passenger seat of her car.
Maureen is very thankful that the drugs arrived on the scene, and that what it means to live with HIV has changed so dramatically. "I couldn't still be doing this 30 years later if I was still burying my friends," she explained. "Death is no longer inevitable. HIV today is very much a symptom of poverty."
That's why Maureen is glad that there are places like Clare Housing today. "I'm really close friends with Lee Lewis, the executive director who oversaw the creation of the first apartment buildings. It's been so interesting to watch the evolution of this building and organization," she continued. "The staff here at the apartments and care homes have done a great job keeping people housed, which is not an easy task for people coming from homelessness."
And that's what Maureen hopes for Clare Housing's next 30 years – if not a cure for HIV – then a continuation of the creation of needed affordable housing for people living with HIV, as well as proper training for staff to deal with the unique challenges that co-occur with poverty, particularly mental illness and chemical dependency.
Thanks so much to Maureen for her leadership in the HIV community over the past three decades! We are proud to carry her legacy, and the legacy of other Twin Cities HIV service organization staff on in the work we do here today at Clare Housing.
---
Celebrate 30 Years with Us on September 21st
In her interview, Maureen Wells described HIV as a symptom of poverty. It doesn't have to be this way. Our residents are proving that a different reality is possible everyday by improving their health, and lowering their chances of passing the virus on to others, with the help of supportive housing. We think that's something to celebrate.
Please join us September 21 for a truly inspiring A Place to Call Home Luncheon. Hear first hand how affordable, supportive housing is changing the lives of residents for the better. Registration closes September 8th. RSVP online here.