The Floridian Who Went North and Found Warmth — January 21, 2016
We'd like to introduce you to Mark Bishop, Clare Housing's new President of the Board of Directors. We sat down with Mark to find out how he connected with us, and what we can expect over the next year!
The world is big and complex, and there are a lot of injustices in it. In 2006, Mark Bishop, native Floridian and a civil engineer by trade, had recently moved with his wife Alison to Minnesota.  He was grappling with a desire to see things change – or at least be part of reconciling the disparities he saw around him – and he knew he needed to reach out in some way.
Fortunately for us, Mark connected with Clare Housing. After a service trip to Washington, DC, which he says opened his eyes to the struggles of people living with HIV/AIDS, Mark began making dinners two nights a month after work at Clare House in Saint Paul. These meals were a small step into a world he knew little about.  Over time, he got to know the residents and caregivers and their stories.  And his wife and his two daughters joined him too.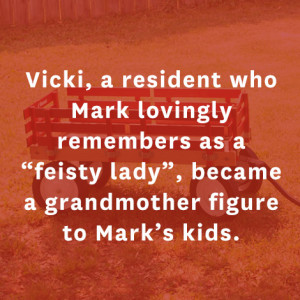 Some of Mark's fondest memories of volunteering at Clare Housing are ones that involve his two daughters, Kate and Elle. Vicki, a woman who Mark lovingly remembers as a "feisty lady" and a former resident of Clare House, became a grandmother figure to his kids. Mark recalls how Vicki used to treat the girls to rides in a red wagon while he did yard work around the house.
A big lover of a good yard sale, Vicki would collect little trinkets and give the girls a treat occasionally when they came over.   The eldest, Elle, still decorates a small Christmas tree that Vicki gave her one year.
It is personal connections with residents like Vicki that kept Mark coming back. "Spending time with my friends at Clare House became an integrated part of who I was," Mark says. "I became close friends and learned so much about their struggles.  My life was getting filled with friendship, laughter and joking at the dinner table, and sometimes hard times too, like funerals."
"I learned a lot about what it means to listen and be present. And over time I really began to appreciate how focused, creative and warm Clare Housing is." When he was encouraged to serve on the board, Mark said, "Yes." He's been saying "yes" to Clare Housing ever since, and has accepted the position of  President this year.
Mark's work at Kimley-Horn includes designing the high profile Green Line light rail and the upcoming Southwest light rail projects.  The lessons he learned from being a part of Clare Housing helps him solve many challenging problems on these projects.  And he plans to bring these successful approaches to his role as board chair. "The board is full of amazing, kind, smart people," Mark reports. He sees his role as leader as simply promoting a functional space for the board to bring their diverse perspectives together to support Clare Housing's mission.
Where is Clare Housing going in the next few years? Far, says Mark, thanks to the firm foundation that Chuck Peterson, executive director, and Ann Ruff, our immediate past president, have set. That is, if we can continue growing the visibility of Clare Housing as an organization.
"Not enough people understand that affordable supportive housing can help to create an AIDS-free world. Clare Housing has proven that is possible through our resident's improved health after engaging in our programs." says Mark. "It's our opportunity as supporters of Clare Housing to share that message." Mark's challenge to all Clare Housing supporters for 2016 is to help us share that message, and support Clare Housing just a little bit more.
"If Clare Housing asks for something, just say yes," says Mark. "I've been open to that in many ways over the last 10 years, and my life has been richer for it."
"Ask yourself what's one little thing that you could do for Clare Housing in 2016. Maybe it's bringing someone to a Journey Home program, or writing a staff member a friendly note. Maybe it's cooking a dinner for residents, or making a recurring gift. All of those things come together to make us strong."
Thank you, Mark, for taking on the role of "lead engineer," and making that space for us to come together and make our mission and vision of an AIDS-free world built on a foundation of equitable access to housing and health care possible.