Meet Cornell & Preston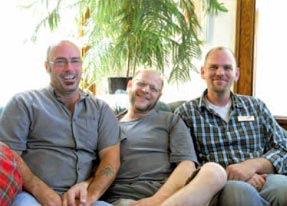 Preston and Cornell met six years ago. For the first two years of their relationship they lived apart and struggled with drug addictions. Neither had a place to call home. Preston lived with friends in Stacey, Minnesota and Cornell was mostly living at home with his mother in Princeton, Minnesota. They lived fifty miles apart and had three things in common: they loved each other, were addicted to narcotics and both HIV positive.
Both wanted to change their lives and made the choice to find a way to be together. "I was couch surfing and sick and just wanted to be with Cornell," says Preston. However, finding someone who would rent them an apartment was difficult. Cornell had been evicted from a previous apartment and Preston did not have enough income to rent his own apartment. After treatment to end their drug use and with the help of their case manager Johnny at The Aliveness Project, they learned about Clare Housing's rental assistance program – Project Cornerstone.
"We were so excited that we could live in a place that accepted us for who we are. We wanted to be a family," says Cornell. In February 2008, Cornell found a part-time job but had no place to live. Within three months of being on the waiting list for an apartment, they were offered a one bedroom apartment. Not only were they excited to have a home together, they loved the neighborhood.
"When they showed us the apartment, we couldn't believe how beautiful the apartment was and that we were together! It was like we won the lottery. Finally we had a home. We were recognized as a gay couple and treated with dignity and respect," says Cornell.
Funded by the Minnesota Housing Finance Agency, Project Cornerstone provides flexible rent for the residents. Residents pay 30% of their monthly income towards rent. "If our income changes in a month, we just need to let the staff know and then our rent changes for that month. It is a huge relief to know that we won't lose our home because we are too sick to work," says Preston.
"We consider ourselves really lucky to have a home together. We both know that this disease is going to take our lives but being a family, able to take care of each other and have lots of laughs and smiles makes the bad days a little better," says Cornell.