Meet Gayle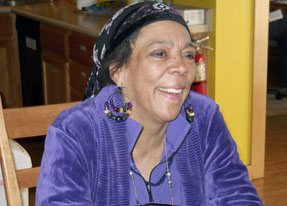 Gayle loves languages, flowers, volunteering and helping others. She smiles easily, and has a flair for style and color (especially purple!). And her family. When she talks about her three daughters and her 8-year old grandson, she positively beams.
Gayle's life is back on track, she will tell you, after a bad patch of illness, personal problems, and more illness, including HIV and Hepatitis C. She has been a Clare Housing resident since April, 2010, and she said that having stable, supportive housing has made an enormous difference in her life. "Physically, I feel so much better," she said. "I'm taking water therapy in the warm water pool at Sister Kenny and I'm eating better. I don't use a walker anymore."
Her background
Gayle attended the University of Minnesota, where she studied French and Japanese. She married an attorney and raised their three children, Maxmillia (who is now an attorney), Genevieve (a nurse) and Alexandria, who is a student. Gayle decided to learn Braille, to help visually impaired people. "It was another form of language for me," she said. She completed the Library of Congress' Braille transcriber certification program.
She worked as a gardener in a garden shop for 15 years in South Minneapolis, and then moved into interior landscaping.
Always ready to help others, Gayle became a volunteer guardian ad litem for children who needed an advocate in the Hennepin County court system. She also provided a "free foster home" for seven teenage girls, 18 years ago; they have stayed in touch, she said, and are all doing very well.
The breakdown
Then came the period of her life she refers to as her "breakdown." It started with serious health problems, including rheumatoid arthritis (she was diagnosed in 1980) and fibromyalgia, diagnosed three years after that. Personal problems followed, when she and her husband divorced. When her illnesses left her unable to work, she lost her house to foreclosure. Life dealt her another unexpected blow, when she learned that the man she'd been seeing was HIV positive and had Hepatitis C. He never told her he was infected. She discovered, too late, that he had passed the diseases on to her.
As time went on and the virus progressed, "I literally went crazy," she said. "I was seeing things. I had a poor sense of balance, and I fell twice." She moved into a motel, where her family worried about her being alone. "I was there six months. I was not taking my meds." She ended up in a hospital, then a nursing home. "That was not a nice place to be. I was feeling terrible about myself." Being accepted into the Clare Housing program, she said, was a godsend. "Without it, I would be dead. I've always been the caretaker, but the people here take care of you. It feels good."
Back on schedule with regular meals and medication, she added, "I started to regain my sanity immediately. The staff knows about the physical and mental stuff that happens to you when you are HIV positive. They were able to explain what was happening to me. It was validation for me when they said, You are not nuts." Gayle said her care has been excellent, and she has been able to resume some of her hobbies, such as crocheting.
Her daughters are happy that she is now in a safe place, she added. "They were concerned that I was going to isolate myself again. Here, we have communal dining. There are a lot of volunteers who come in and make really good meals. My family can come to visit, and I still have my privacy. Clare Housing has absolutely saved my life."
Special thanks to Gail Olson for writing this article. Gail is a freelance writer and worked for 22 years at the Northeaster and NorthNews community newspapers.